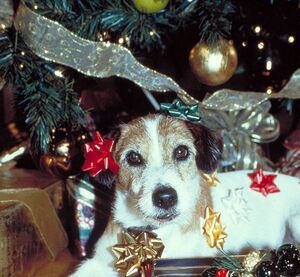 Eddie is a character on NBC series Frasier. He is portrayed by Moose for the first seven seasons, and by his son, Enzo, the remaining four.
Character
Edit
Eddie is the Jack Russell Terrier owned by Martin Crane. He is capable of understanding human language, but disregards to certain people. Eddie often stares at Frasier, and was well known as a gag. Eddie has six children, which was revealed in "The Unkindest Cut of All", which causes Frasier to have him neutered. His puppies also have a tendency to stare at Frasier. During the episode, they were handed out to others. He generally listens only to Martin, and has an inconsistency in learning tricks. He occasionally listens to Daphne Moon, and upon her visits, only fully listens to Lillith Crane, out of fright. His birthday is first said to be May 7, but later changed to May 15.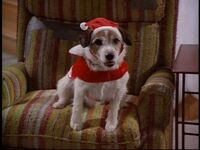 It was revealed in a flashback in The Return of Martin Crane that, prior to obtaining Eddie, Martin had purchased a goldfish also named Eddie. When a colleague suggested that he get a dog, Martin claimed not to be a dog person.
According to various commentaries and behind the scenes programs, Moose was extremely well-trained and obedient to his owner, but never really took to any of the cast.
Ad blocker interference detected!
Wikia is a free-to-use site that makes money from advertising. We have a modified experience for viewers using ad blockers

Wikia is not accessible if you've made further modifications. Remove the custom ad blocker rule(s) and the page will load as expected.