"Kisses Sweeter than Wine" is the 5th episode of Season 3 on NBC series Frasier.
Synopsis
Edit
WHAT WHINE GOES WITH ANGER – Frasier may have to scratch his dream of becoming the head of the wine club after Niles accidentally gouges Frasier's floor on the eve of an important wine tasting. When Niles has his contractor, Joe, promptly make repairs, Frasier is floored by the ensuing mess and chaos. Also, Niles must contend with the fact that Joe and Daphne have taken a shine to each other.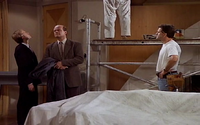 Frasier is hosting a wine tasting at his house in hopes of becoming one of the wine club's new officers. Frasier and Niles decide to move Martin's chair to the other room, and Niles drops it on Frasier's hardwood floor, causing a scratch. Frasier, worried that his guests will notice and deride the scratch, hires a contractor to swiftly remove it. The contractor, Joe DeCarlo, comes to help Frasier but he discovers faulty wiring. The contractors continue discover serious problems with Frasier's apartment and more work is being done, and Frasier needs to rush them out before his party.
Guest Stars
Edit
Brooke Adams as Marilyn
The title is taken from the Jimmie Rodgers song.
First appearance of Joe DeCarlo, Daphne's boyfriend.
Ad blocker interference detected!
Wikia is a free-to-use site that makes money from advertising. We have a modified experience for viewers using ad blockers

Wikia is not accessible if you've made further modifications. Remove the custom ad blocker rule(s) and the page will load as expected.