Robert Prosky was an American actor.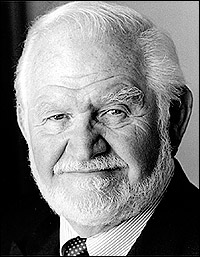 Born 13 December 1930, Philadelphia, Pennsylvania, USA. Sagittarius. Died 8 December 2008, Washington, District of Columbia, USA, due to complications from heart surgery. He was 77; he died 5 days before his 78th birthday
From IMDB.com:
Got into acting via a scholarship to New York's American Theatre Wing through a TV talent contest. Received a degree in Economics from Temple University. Later worked as a bookkeeper with the Federal Reserve Bank while taking acting classes at the American Theatre Wing in New York. Appeared on Broadway in "A View From the Bridge", "Glengarry, Glen Ross" (Tony nomination for Featured Actor) and "A Walk In the Woods" (Tony nomination for Best Actor). Member of Washington D.C.'s Arena Stage repertory company in the 60s and 70s, where he worked with Jane Alexander, James Earl Jones, Robert Foxworth and others.
Made his movie debut in Michael Mann's Thief (1981). That film also marked the film debuts of James Belushi, Dennis Farina, and William Petersen. In 1960, he married Ida Hove, who survived him, along with three sons, Stefan, John and Andrew Prosky. Andrew and John Prosky are also actors.
Ad blocker interference detected!
Wikia is a free-to-use site that makes money from advertising. We have a modified experience for viewers using ad blockers

Wikia is not accessible if you've made further modifications. Remove the custom ad blocker rule(s) and the page will load as expected.